PRICING
EVERY DOOR DIRECT MAIL MADE EASY! CALL US 847-841-8400
Pricing Varies on Quantity, Size and Location. Pictured below are a couple of examples of our Trifold Flyers as well as our WOW Cards which are commonly sent out grabbing future customers attention. Mention these cards, and we will send you a quote including the WOW Card, as well as any other sizes you are interested in.
Click on this link to: REQUEST AN ESTIMATE or call us at (847) 841-8400 or EMAIL US and we will quickly get you a price quote.
We deliver all your EDDM mailings to post office – FRUSTRATION FREE!
To get a FREE mapping and address count with carrier route information plus demographics for the areas you are interested in head here:  Direct Mail Mapping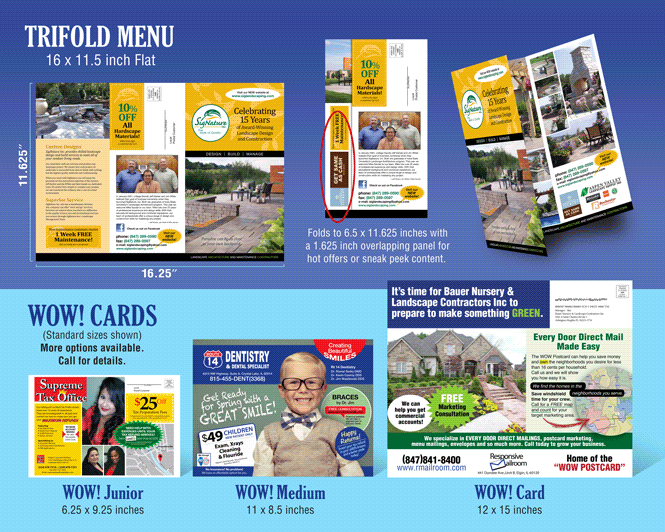 We hope to hear from you! Visit our friendly people, or just give us a call. And if you'd like, use the contact form to send some more info!
Address:
The Responsive Mailroom
441 Dundee Ave Ste B
Elgin, IL 60120
HOURS
Monday 9:00 am to 5:00 pm.

Tuesday 9:00 am to 5:00 pm.

Wednesday 9 00. am to 5:00 pm.

Thursday 9:00. am to 5:00 pm.

Friday 9:00. am to 5:00 pm.